---
Tomah Chamber & Visitors Center announces the "This is Tomah" Campaign
Celebrating the Tomah community and its commitment to accessibility.
Tomah, WI: Tomah, Wisconsin is a charming city located in Monroe County, in the western part of the state. Known for its fun downtown, friendly residents, and unique attractions, Tomah is a popular destination for travelers of all types. Now, the Tomah Chamber & Visitors Center is celebrating the destination with the "This is Tomah" Campaign, featuring an opportunity for visitors to win a trip to the area to celebrate the community's many attributes aimed at families and visitors looking for a smaller, yet lively destination.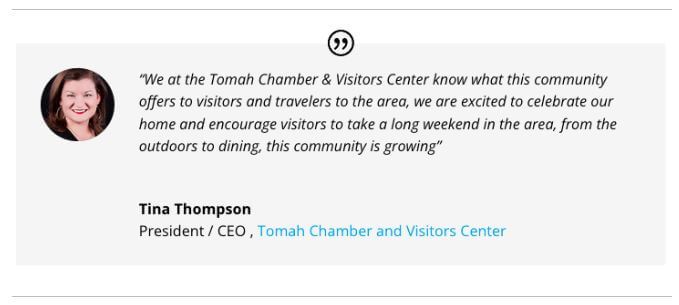 In addition to the natural beauty of the region, Tomah is also home to a number of interesting cultural and historical attractions. The Tomah Museum and Historical Society, for example, offers visitors a glimpse into the city's past, with exhibits on everything from the region's Native American history to its role in the Civil War. Sites include The Little Red School House built in 1864 and featured exhibits include the Frank King Collection hosting the nationally syndicated comic strip "Gasoline Alley", and the history of Chief "Tomah" who the city of Tomah was named after.
Of course, no trip to Tomah would be complete without sampling some of the city's cuisine. Visitors can indulge in a variety of local specialties, from award winning BBQ from BP Smokehouse to coffee houses, taverns, cafes, and diners, to the many craft beer options at the Taphouse Twenty. And for those who have a sweet tooth, the city's locally owned bakeries and cafes are not to be missed.
Entertainment includes two family friendly summer LIVE music series, Americanna Music in the Park and Downtown Thursday Nights featuring a free Kid zone. Annual Festivals fill the calendar such as winter's Freeze Fest, and Regional Rodeo, to summer's Budweiser Dairyland Super National Truck and Tractor Pull, the Monroe County Fair and more. Tomah, WI also makes a quality, centrally located homebase for regional festivals including the Sparta Butterfest in June, spring's Camp Douglas's Armed Forces Days and the Warrens Cranberry Festival in September.
Another attribute to this community is Tomah's commitment to accessibility for all, Tomah is an accessible outdoor gem in the heartland of Wisconsin, offering a variety of outdoor recreation opportunities for those who are visiting the area for the day or for a vacation. Whether you are looking to hike, bike, fish, or just enjoy the great outdoors, Tomah has adaptive offerings for any ability. And in partnering with the North American Squirrel Association (n.a.s.a), accessible outdoors for nature lovers and adventure seekers of all abilities is a top priority in Tomah. The n.a.s.a of Tomah is working to bring accessible outdoor opportunities to the area, so everyone can take advantage of the beauty of the outdoors and the recreation activities that are available.
If you're planning a trip to Tomah, be sure to check out the area's official website at www.tomahwisconsin.com. Here, you'll find a wealth of information on local events, attractions, and accommodations, as well as tips for planning the perfect vacation. With its beautiful natural surroundings, rich cultural heritage, and delicious food, Tomah is truly a go to destination in the heart of the Midwest.
Lodging
Conveniently located, visitors stay nearby all that Tomah and the area communities have to offer. Visit popular nearby destinations, like the Warrens Cranberry Festival, Fort McCoy, the Amish community, and the National Tractor Pull. Learn more.
Dining
From casual and homey restaurants to ice cream shops and local cuisine, satisfy your appetite in Tomah, WI. Smokehouses, Main Street restaurants, sports bar & grills, cafes and delis—there's a place for every occasion and taste. Learn more.
Shopping
If you're looking to support small businesses in town, search for Amish and antique goods or find locally sourced products, you're in the right place. Tomah has one-of-a-kind shops with unique offerings and gifts. The Tomah shopping scene has you covered from clothing and home goods to jewelry, shoes, and more. Learn more.
Military Deals
Tomah offers special military deals for service members and their families, as well as veterans. These discounts can range from deals at local businesses and restaurants to discounted prices for events and festivals, and more! Learn more.
Tomah is also located near several state parks and forests, including the Necedah National Wildlife Refuge and the Black River State Forest, which offer opportunities for hiking, camping, and other outdoor activities.